2022 St. Thomas International Regatta Day 1 – Sailors revel in idyllic Caribbean conditions
by Carol Bareuther Mar 26 06:51 UTC
March 25-27, 2022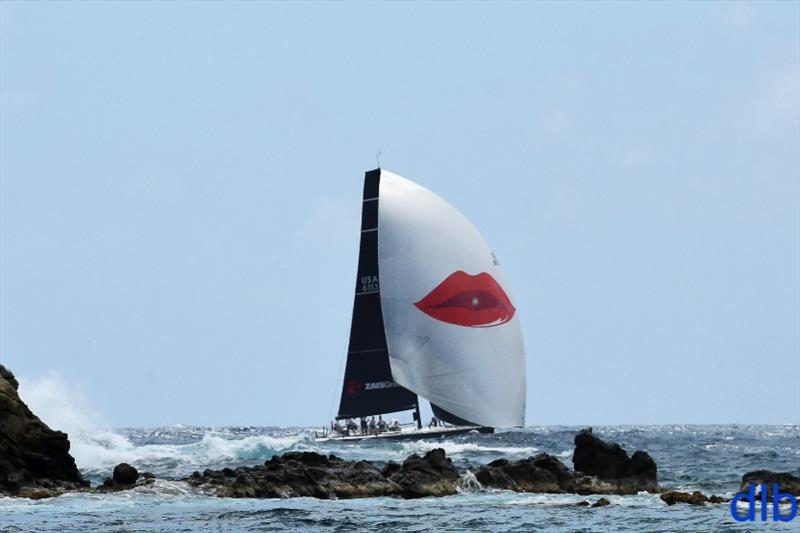 Johnny Mordaunt's American Fast 40 Tschuss makes an eye-catching race around the islands during the 48th St. Thomas International Regatta © Dean Barnes / STIR

Sometimes it's the little things that matter so much in a great regatta. Take for example when a batten broke on USVI's John Foster's IC24, Island Water World/Desperado.
Foster's crew in Newport, RI, Jim Voss, took off his goggles, broke both long temples, and used the pieces to attach the batten. The crew hoisted the mainsail and after that it was off to the races! Foster's IC24 was one of approximately 50 yachts that launched on the first day of racing at the 48th St. Thomas International Regatta (STIR). Conditions were idyllic in the Caribbean with blue skies, 15-20 knot breezes and possible surf for the fleet of 24-65ft yachts with sailors hailing from the Caribbean, USA and Europe.

Leaders and Followers
In the CSA 1 class, American Victor Wild's Botin 52, Fox, led with two first-place finishes on courses around the islands off eastern St. Thomas. Close behind in second was American Jim Madden on his Swan 601, Stark Raving Mad VII.
"We have competed in the St. Barths and St. Maarten regattas in the past, but had never been to St. Thomas. Our plan this year was to do the entire Caribbean circuit, so that included STIR. racing around the island was great today. Nice breeze, nice islands, it was a wonderful day," says Madden, of Newport, Calif., who is a member of the Newport Harbor and San Diego Yacht Clubs as well as the New York Yacht Club.
Among Madden's crew is Anthony Kotoun, a former longtime resident of the Virgin Islands who learned to sail at the St. Thomas Yacht Club. Kotoun recently won the Melges 32 World Championships in Miami in December.
In CSA 2, USVI's Peter Corr rode his Summit 40, Blitz, to first place. Corr's competition included loyal STIR sailor Bernie Evan-Wong of Antigua and Barbuda on his Reichel-Pugh 37, Taz. Taz finished the day in fourth place in this class.
"Yesterday's Round the Rocks race was a good tune-up for us. We had a great day today and hope for the same tomorrow," said Evan-Wong.
Bastian Sarh of Puerto Rico led the CSA Class 3 on his Beneteau 10m, Chili Pepper. Fellow islander Fernando Montilla on his Tartan 10 Timon II came fourth, but with finishes seconds behind his rivals.
"We tried to stay close to the rest of the fleet, and close to the islands where there wasn't such a strong breeze. Other than that, we planned to avoid mistakes and collisions, and we Tomorrow we will do a little better," says Montilla, a member of the Ponce Yacht and Fishing Club.
Nearly 20 one-design IC24s raced on windward and leeward courses at Great Bay, in front of the Ritz-Carlton resort, St. Thomas. Puerto Rico's Marco Teixidor and his team on Cachondo topped the class by just two points. USVI's Foster finished the day in 10th place.
"I've raced pretty much every STIR," says Foster, a founding member of the St. Thomas Yacht Club. "In the 70s and 80s there were a lot of J/24s, then J/27s and J/29s. So riding an IC24, which is adapted from a J/24, is not much different .hasn't changed over the years, it's great competition and camaraderie."
On Saturday, racing begins at 11 a.m., with courses starting from the East End of St. Thomas. The competition ends on Sunday with an awards ceremony at 5:00 p.m.

Strong sponsor support
STIR organizers thank the USVI Department of Tourism; Cardow Jewellers; The moorings; K3; Bacardi Rum, Michelob ULTRA, Stoli Vodka and Milagro Tequila, distributed by the West Indies Company; Ocean Surfari; Seas the Day Charters for strong sponsor support.
To follow the action, go to STIR on Facebook, Twitter, and Instagram. The real-time score is available at yachtscoring.com/emenu.cfm?eID=14738 under Race Results. For more information, visit stthomasinternationalregatta.com.