Strong international plateau for the Arctic Vendée – Course Les Sables d'Olonne
by Vendée Arctic Jun 11 15:07 UTC
June 12, 2022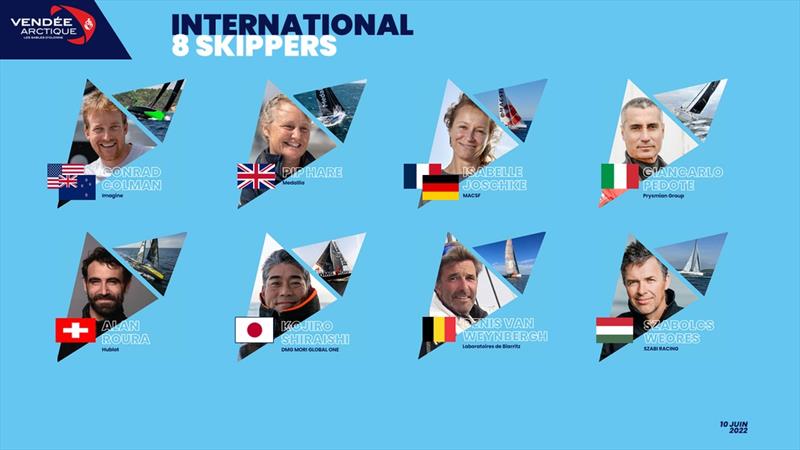 Strong international plateau for the Arctic Vendée – Les Sables d'Olonne race © Vendée Arctique

Out of a total of 25 solo runners preparing to tackle the 3,500 nautical mile Vendée Arctic – Les Sables d'Olonne race which begins this Sunday on a course north to Iceland and the Arctic Circle, there are eight sailors who represent nations other than France, the host country.
Already this international contingent represents an increase compared to the first edition of the race which took place in July 2020, then less than four months from the start of the Vendée Globe. Now the first qualifying race for the 2024 edition, the tenth edition of the race around the world solo and non-stop, it is a clear sign that the interest of non-French skippers is constantly growing.
Indeed, to have a chance of securing a place among the 40 registered for the 2024 race, sailors increasingly need to have an IMOCA on the water now, or on the contrary to be about to to complete the construction of new boats, as is the case with the first two internationals of the first Arctic Vendée Les Sables d'Olonne in 2020, the Briton Sam Davies who finished fourth and the German Boris Herrmann who finished seventh.

Italian Giancarlo Pedote (Prysmian Group) has considerably refitted its IMOCA throughout the winter by changing the bow section to improve it in cross seas and by reinforcing it structurally before installing new foils this winter. The tough guy Pedote knows his boat perfectly after finishing the last Vendée Globe in eighth position. And in last month's shorter Guyader Bermudes 1000 race, Pedote finished eighth, the same position he achieved on this Arctic Vendée course last year.

Franco-German Isabelle Joschke (MACSF) enters this race on the heels of an excellent fifth in the Bermuda 1000 taking advantage of similar bow updates. Joschke shows an incredible ability to push his boat hard and fast, sailing smartly to accommodate his relatively small size. Having had to abandon her Vendée Globe because of keel damage after Cape Horn, Joschke may not like the cold but she has proven herself in the "deep south" by setting back miles and places to be solidly in the main top ten of the "peloton" when she had to retire.

Swiss Alan Roura, the youngest skipper to complete the Vendée Globe aged 23 in 2016 was on the verge of giving up and landing a full-time job after his funding dried up following his second Vendée Globe finishing 17th. But at the last minute his story hit the Hublot watch brand and he now has the VPLP design which finished second in 2016 as Alex Thomson's Hugo Boss and was later optimized as Alaka'i by 11th Hour.

Kojiro Shiraishi from Japan (DMG Mori Global One) returned to his IMOCA in Japan from the Vendée Globe where he finished 16th, the first Asian sailor to complete the solo circumnavigation of the globe. Shiraishi may have had his best result in IMOCA with a tenth place in the Vendée Arctic in 2020, but the first race with his new boat was fraught with difficulties. Shiraishi is looking for a strong, clean run. Read the interview here.

Hungarian Szabolcs Weores is quite the definition of a rookie in IMOCA but has nonetheless tens of thousands of nautical miles, including a fully crewed round the world race to his credit. Inspired by the Vendée Globe and the round-the-world exploits of his legendary compatriot Nandor Fa, "Szabi" has Ari Huusela's Stark IMOCA which started life as Dee Caffari's Aviva and "dreams big". The 49-year-old professional America's Cup rigger's aim is to reach the finish line of this race, his first step towards the Vendée Globe in 2024. Read the interview here
Based in France Kiwi Conrad Colman (who holds dual US citizenship) is back. The so-called "Crazy Kiwi" is putting everything on the line to be back at the start of the Vendée Globe in November 2024. He has secured enough funds to race on Maxime Sorel's former boat which is being renamed "Imagine" but, as others are looking for sponsors to speed up their campaign. Colman has started his program well, underlining his potential with an excellent tenth place in the recent 1300 mile Bermuda 1000, making it his first solo IMOCA race since limping into Les Sables d'Olonne under jury rig to finish 16th on February 24, 2017.
"I have a few sponsors who helped me put up a deposit and then borrowed the rest to buy the boat, hoping that with an existing project that exists to race a boat that can be put in the colors of the sponsor in a few days or weeks rather than months or years that I can be successful and land sponsors. In the meantime, it has put my financial situation in jeopardy. I have to make it work. Said Colman, adding: "I am a bit nervous on this one because I think it will be difficult to replicate another top ten result as it is a much longer race and it will give people time to scramble, foil and to go fast". But it's also a much tougher race. There will be some attrition. But I think experience will also come into play in terms of managing yourself and the boat over many thousands of miles. So I'm really looking forward to sinking my teeth into this."
And for all that he has experienced in France for many years, he remains an ardent Kiwi.
"There's a decent following, good interest in New Zealand. I think it's disappointing now that the NZ Volvo 65 hasn't gotten the support to be able to compete in The Ocean Race and I'm saddened by the lack of Kiwi ocean racing I feel like we're losing control I don't have the delusions of grandeur I could carry the hopes and dreams of all New Zealanders but I'm here I'm a Kiwi, I go offshore and I have a flag with me. I keep that in mind all the time.

Pip Hare of Great Britain (Medallia) is determined to have a better and more enjoyable race with his new IMOCA than last month's Bermuda 1000 which saw him finish 17th out of 21 finishes. The longer, more challenging course that will have multiple weather transitions should suit her riding style better than the intense sprint of the last race that she rushed too much on.
Hare said: "I feel a lot better than I thought. I drew a line under the Bermuda 1000 race. I don't think my own expectations were too high, but maybe the expectations of others weighed on me a bit. I'm me. I only have my journey behind me. I'm from where I'm from and I don't have elite sailing experience. I'm working as hard as I can to get to the level of this boat and work with some of the great people but i am where i am my success in this race will not be determined by my place in the leaderboard but by how i navigate the boat, the decisions i I take, how I improve during the race. And above all I just want to enjoy it because that's what I like to do."
She would be happy to finish in the upper middle of the fleet of 25 boats: "On paper it's the mid-fleet boat. It has small foils and it's now two generations old. And I think I'm probably mid-fleet. I think this boat is a good boat to learn from. I would like to be closer to Giancarlo Pedote, Damien Seguin and Isabel Joschke. If I could be close to them, I would be very happy."
And Belgian Denis Van Weynbergh runs Nandor Fa's former Spirit of Hungary under the colors of Laboratoires de Biarritz. A 54-year-old former transport company manager who moved from the Mini 650 and the Class 40 to the IMOCA, the rookie Van Weynbergh has a modest budget and a small army of local volunteers from Les Sables d'Olonne who help.